Tea Party and Plant Exchange
This shop has been compensated by Collective Bias, Inc. and its advertiser. All opinions are mine alone. #TeaProudly #CollectiveBias
Tea Party and Plant Exchange: celebrate the beginning of gardening season with a plant exchange and tea party. Everyone brings a plant for everyone else from their garden, followed by a tea party together to celebrate the love of gardening.
The Victoria Day long weekend is the traditional time to start planting outside where I live. I look forward to getting into my garden over the long weekend every year. I love to get my planters planted on my deck, and put in our little veggie patch. Over the years, it's become a bit of a tradition to kick off the season with a little tea party and plant exchange over the weekend too.
The Plant Exchange
The idea of plant exchange is to all bring one another a perennial plant from our gardens to share with each other. You bring one plant for everyone and get to go home with as many new ones as well. Some years everyone has had established gardens and shared some of their perennial babies or divided up a large perennial. Other years, people with less established gardens have come and just picked up a new plant for everyone at the garden centre or even a package of seeds. I always try to invite a mix of old and new gardeners. The new ones are full of enthusiasm and the old ones are full of wisdom.
I made a simple name tag for everyone with some cardboard tags and twigs.
As everyone arrived for the party, they added their plants to everyone's groupings.
After we look at the garden, and exchange our plants we always sit down to a little tea party and garden chat. I love to keep the tea party really traditional with delicious Bigelow steeped tea, little finger sandwiches, scones and clotted cream, and some sweets.
The Tea Bar
This year I set up the sweetest tea bar in the kitchen with all of Bigelow Tea's beautiful organic steeped tea varieties.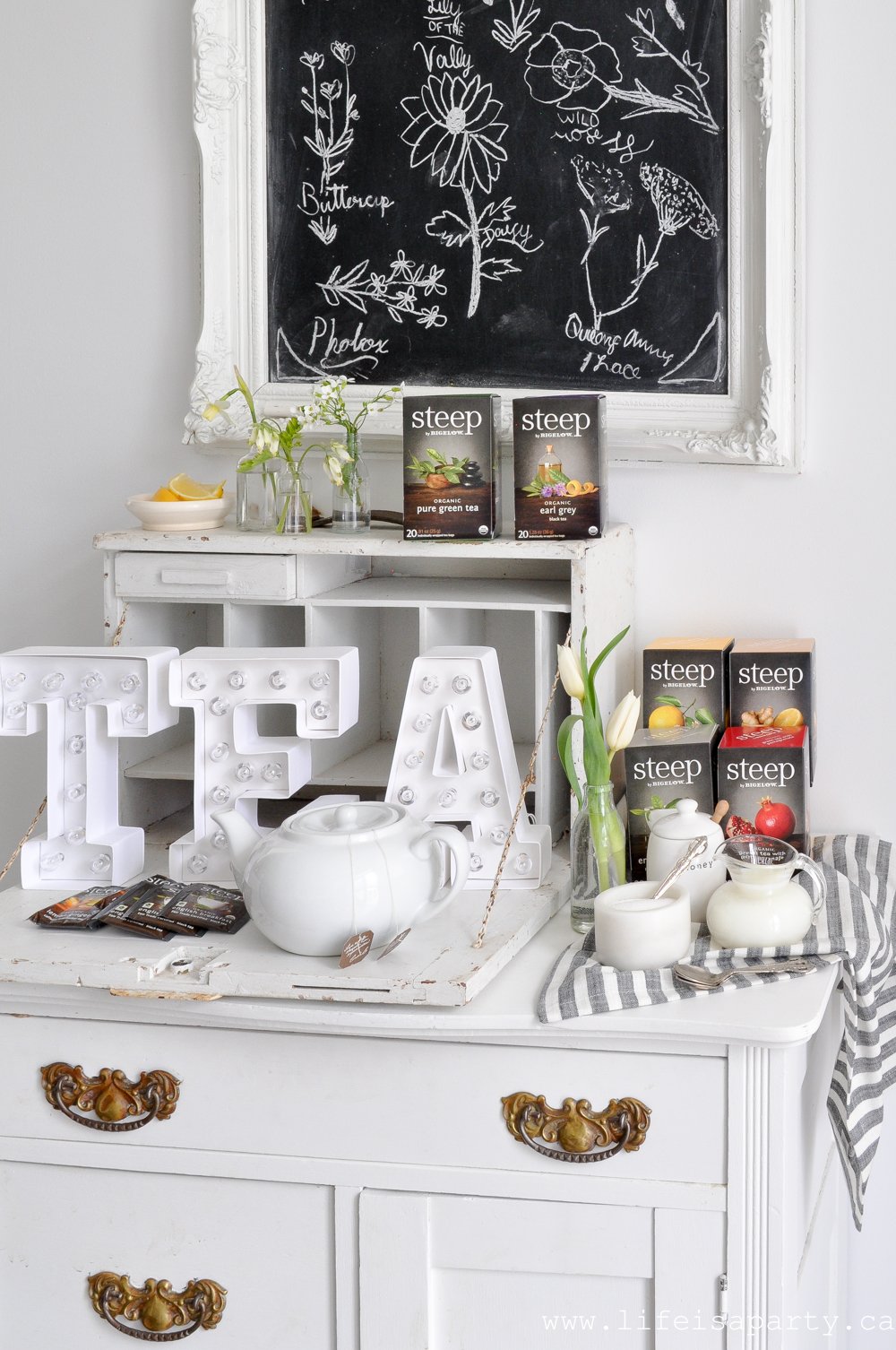 Interested in enjoying a cup of Bigelow Tea this long weekend? Hover over the photo to click through to Walmart.ca and buy it!"
There was classic English Breakfast, and Earl Grey. There was also Chamomile Citrus, Green Tea with Pomegranate, Lemon Ginger, and Pure Green Tea.
We added some traditional tea accompaniments; milk, sugar, honey and lemon.
I used my vintage milk glass pretty tea cups. Sometimes it's nice to get a little fancy. 😉
Select Steep by Bigelow Tea teas that are now available in Walmart Canada and coming soon, online. I picked mine up in my local Walmart, look for them in the tea section.
Steep by Bigelow Teas are completely new to Walmart Canada locations, and I know you'll be excited to try them.
I love offering my guests so many great varieties. These organic teas were so delicious. My favourite had to be the traditional English Breakfast, but there's so many great varities there's truly something for everyone to enjoy.
The Tea Table
I set the table for our tea party. I layered my vintage lace tablecloth, and then added lots of pretty white flowers in vintage bottles.
Such a simple and pretty spring centre piece with some of the flowers from my garden.
I thought it would be fun to do a little favour for my guests to take home from the party so I made some little tiny bottles of wildflowers.
I found an inexpensive box of mixed wildflowers, and then used a funnel to put them into these sweet little glass bottles with cork tops.
The labels are made from simple brown paper. I put one at every place setting and everyone loved them.
Tea Sandwiches
For the tea sandwiches we started with traditional cucumber and cream cheese.
I love to make these and cut off the crusts for a dainty treat.
We also had some egg salad sandwiches on mini croissants.
My favourite little tea sandwich though had to be the homemade chicken salad in toast cups. You can find the recipe for these Chicken Salad Toast Cups here, just in time for your own long weekend tea party.
Scones and Clotted Cream
Years ago, I got to live in England for 8 months. One of the delights I'll never forget was going for a cream tea. A cream tea consists of a beautiful pot of hot tea -and Bigelow certainly had us covered there, and scones with butter, jam and clotted cream.
It's hard to find clotted cream over here, but sometimes you get lucky. If you can't find any you can always substitute some whip cream, it's not quite as special but works in a pinch.
The Sweets
And every tea party should finish with some sweets. We made a beautiful cream cheese and cherry strudel.
We also had some little pineapple angel food cakes.
Aren't these tea cup cupcake holders the cutest? And we topped them off with some whipped cream.
There were also some delicious almond thumb cookies.
And there were many, many cups of Bigelow Steeped tea.
Everyone loved trying all the different varieties and choosing their favourite. Want some more ideas on how to Tea Proudly -click here. #TeaProudly
Bigelow Facebook Page | Bigelow Twitter | Bigelow Instagram
With a tea party and plant exchange to celebrate the beginning of gardening season, life really is a party?
What Bigelow Steep Tea variety do you want to try first?